Port of call Nantes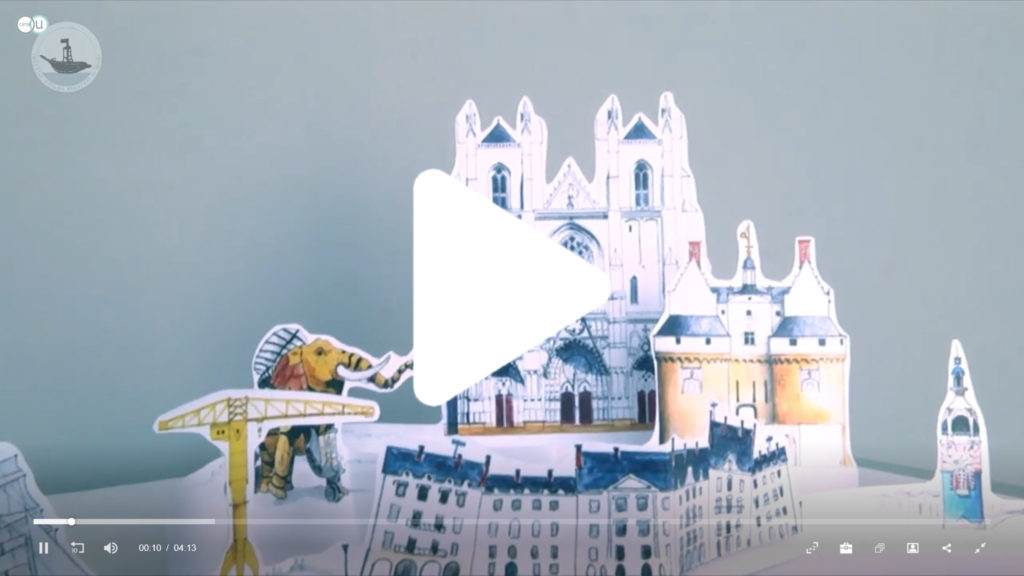 'Escale Nantaise' presents my exploratory notebook narrating my encounter with the city of Nantes.
Why to (re)search? Why in Nantes? The 'Escale Nantaise' project was born during my research fellowship at the Institute for Advanced Study in Nantes in 2015-16. It tells, with texts and drawings, the discovery of a port town inhabited by an open minded and bubbling spirit. Confluences, land of ties and wonder are the main themes of this joyful urban and port exploration.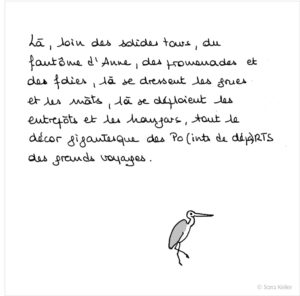 Along my wandering in the city, the initial corpus of watercolours was enriched by texts and a glass 'Master Object'. This installation, entitled 'La Châsse à Nantes' (or the Shrine of Nantes -but also please hear "the hunt in Nantes"), is the culmination of my reflection on the identity of Nantes. At the occasion of the exhibition at the Passage Sainte-Croix (october 2017), the 'Châsse à Nantes' offered an interactive experience for the visitors who could make comments on the character of their city.

Exhibition
'Escale Nantaise' comes to the public in the form of an exhibition put together with the support of the Institute for Advanced Study (IEA) in Nantes, and a publication sponsored by the French National Agency for Research -publication out of stock.
* June 2016 – January 2017: Exhibition in the Club of the IEA of Nantes (exclusively research fellows, visitors, guests and members of staff of the IEA of Nantes).
* 7 October – 20 October 2017: Exhibition at the cultural centre 'Passage Sainte-Croix' in Nantes (open to the public and free). See also the presentation on the IEA website, and the article by Nathalie Balji.
* New dates soon available here.
Technical details of the exhibition
Frames: Watercolour and lead mine on papers of different grammages. Framing: 'l'Eclat de Verre', Nantes.
Installation: Hand-blown glasses from the glass factory of Saint-Just-Saint-Rambert (France) and float glass, grisaille Debitus, Tiffany and lead assembly.
Banners: textile banners printed by Lalita, India.
Publication
KELLER, Sara. 2016. Escale Nantaise. IEA de Nantes (avec le soutien de l'Agence Nationale pour la Recherche), limited edition, Nantes. -out of stock-